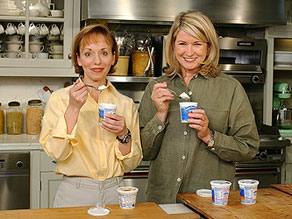 SEPTEMBER 4, 2001 TV segment
HEALTHY LIVING: YOGURT WITH JUNEFIT
"Junefit tips have changed my life".
Martha Stewart
Here are just a few examples of Junefit's articles:
Good Housekeeping TV segment news ch.4
Good Housekeeping Magazine "Energy makeover"
Redbook Magazine "Dangerous time of day"
New York "1" TV News Segment " Health & Fitness"
Newsday Newspaper "Save Calories"
NY Post "Women's health Page"
New York Times " Nutrition in Gyms"
W Magazine Beauty Trends October 02: Fat
Town & Country Magazine March 03 : "Go Ahead, Get Fat".
Town & Country Travel Spring 05 A Training Regime Macchu Pichu
People's "Your Diet" March 05 It isn't Diet Food
Body + Soul Magazine June 05 Simple Stretches
Readers Digest International
June is Lifestyle Columnist at Health News Digest www.healthnewsdigest.com the Health News channel on Avantgo, the hand-held palm device service.
June has served as a Women's Health Consultant and spokesperson to Avon for their Avon Solutions Line in 2006 and a Consultant to Prada Beauty for their International Skin Care Line in 2003.She also served as a speaker for "Ovarian Cancer Week" sponsored by L'Oreal and the Ovarian Cancer Research Foundation in 2008.
Junefit.com is Ranked among the Top Women's Health Resources for credibility at Google, and Ranked in the top 10 at google for" fitness tips" for the last 3 years.